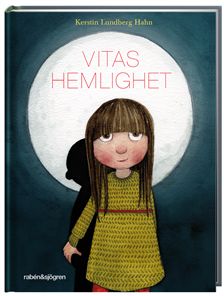 Vita Olsson lives with her mom in a flat in an old two-storey house. The Pizzeria Amore is on the ground floor and the smell of pizza makes Vita long for Italy where her dad lives. Dad is remarried to Angelina now, and they're expecting Vita's little brother.
Oh, how Vita wants her brother!
But there's something strange going on in the house. Vita's sure she can see glowing eyes at the bottom of the stairs when the light is off. And one night she wakes up to hear someone howling from downstairs, from the pizzeria. What if it's a werewolf …
To be published in France in 2013.
Author's note:
I'm a big fan of reading aloud. I read to my kids a lot. My mom read to me when I was a kid. And she didn't stop just because I learned to read myself. Thanks Mom!
Reading aloud gives you so much more than the story itself – a moment of togetherness, the possibility to talk about things you come to think of.
I hope that Vita's Secret will be read by adults and kids together.
PS! When Vita's mom says there's nothing to be afraid of – don't believe her. It's just that the really scary things are for real.