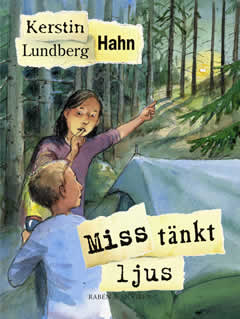 When Kajsa and Johan spend a night in a tent in the woods near granny's house they suddenly see a mysterious light jumping and moving between the trees. Is is a U.F.O?
Shortly afterwards there's an inexplicable fire in granny's garden, and then certain people in the village start receiving anonymous letters. Kajsa and Johan get suspicious. That new girl, Anki, seems to be able to do all kinds of stuff.
The night the vicarage burns down Kajsa slowly begins to see a pattern. There are ugly things going on under the surface of the nice quiet village.
Author's note:
Who are the good guys? Who are the bad guys? And what about when the good guys start doing bad things? And the one you thought was the bad guy maybe isn't so bad after all?
I know that school reading groups have had interesting talks about this book, about how we sometimes judge people too quickly. I'm happy to hear my book has had this effect.
Also I'm proud of the nomination for Best Crime Novel For Young Readers made by the Swedish Crime Fiction Academy in 2003. (OK, I didn't win, but anyway …)