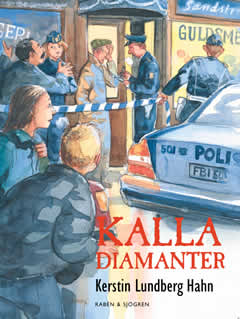 "The vaccuum Gang strikes again. Police still without clues". This is what the newspapers say on the day that Johan comes to visit Kajsa in town. That same night sirens and blinking blue lights in the city street outside Kajsa's house wake them up. Someone has broken into Mr Sandstrom's Jewel Shop opposite. Kajsa and Johan stumble out into the cold, snowy winter night.
Who has stolen Mr Sandstrom's remarkable diamond? There are many suspects, and Kajsa and Johan are surprised more than once before they discover the truth.
Author's note:
It was my great love for cinnamon buns (Swedish kanelbullar) that gave me the idea to this book. I was on my way to my favourite café in Göteborg when I suddenly saw a police car outside.
Oh, my! What's happened?
Well, it turned out the policemen were as fond of cinnamon buns as I am. They were having a coffee break. But before I discovered that, the first seed of the story had already been planted.
It's a wintery, Christmassy, cinnamony story about money vs friendship.