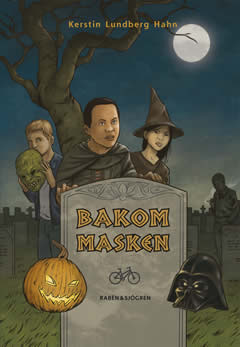 "What Zac sees through the window makes him turn cold. Mimmi's stolen bike is there. That stupid guy is bending over it with a wrench in his hand. But that's not all …
Zac suddenly feels sick, all the muscles in his body tense. He's got to hurry home, he's got to tell someone. But before he even moves somebody grabs him from behind. Two strong arms pull him to the ground, drag him to the door and throw him onto the cold stone floor.
– Hey, this guy's spying on us!"
Freddie is accused of stealing bikes, but he's innocent. Mimmi has lost hers. Zac is obsessed with the idea of justice. Together they decide to try and find the thieves. But it turns out to be much more dangerous than they ever imagined.
Author's note:
When I visit schools and they tell me they love the book, I naturally ask why. The response is the classic: "It was so exciting!"
But then they start asking me about the characters:
What will happen to his brother? Why is his dad so mean to him? Will she and her best friend make up again?
Not all 11-12-year-olds solve crimes in their spare time, right? But all 11-12-year-olds have to deal with everyday realities, parents, friends and siblings, making mistakes and not wanting to tell, being secretly in love or sometimes just wishing they were somewhere else.
Crime fiction with life-like characters with life-like lives  – that's what I wanted these books to be. That's why the students' questions make me so happy.